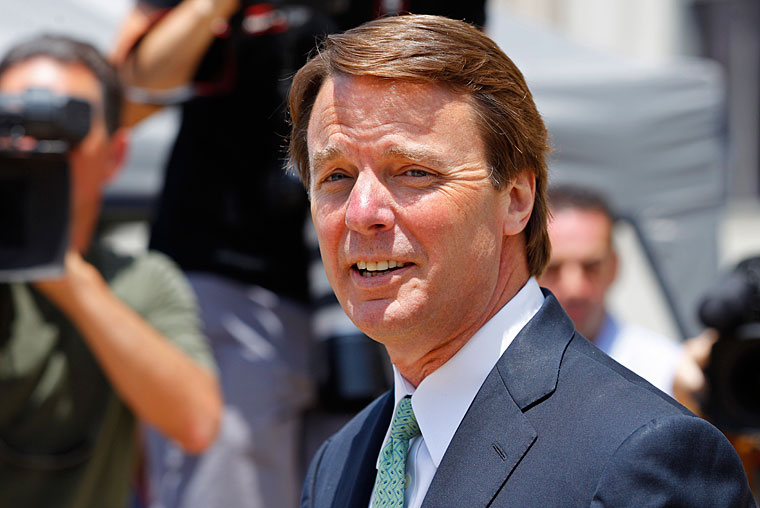 John Edwards speaks after jury verdict
(Chuck Burton/ Associated Press via Hamptonroads.com)
John Edwards speaks
after his trial
, where he was found not guilty on count 3 and the jury hung on all other charges. He said that he applauds the jury for being exemplary. He said he did not feel that he did anything wrong as far as the trial and criminal charges, but his sins are his own. When he looks in the mirror, he sees his sins.
Edward says he is accountable for his sins, and that he "did an awful, awful lot that was wrong." He wanted to thank his dad, who just turned 80 and mom who came up every day to Greensboro for the trial, from Robbins, SC.
Edwards spoke of all of his children and how his eldest, Kate, sat with him and loved him through all the awful and painful things he had done, and awful and painful things she had to hear about him and her mother throughout the trial. He also spoke of his other children, fourteen year old daughter, twelve year old son, and Wade who passed years ago.
What was probably a shock to many, he also spoke of Quinn, and became choked up. He said he is very close to her, despite what many may think. He takes care of his fourteen and twelve year old alone, every day.
Edwards ended saying that he doesn't feel God is through with him yet, and that there is still good things for him to do. He will continue to work with the people he see struggling in this country. Edwards said he will dedicate himself to helping people and being the best dad he can be. He thanked everyone and walked away.
Do you feel that John Edwards can recover after all of this, or will his image forever be tarnished?